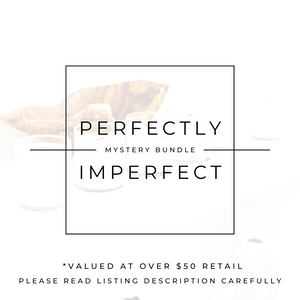 Even though some of these candles may be slightly less than perfect in some way or another, they still deserve the chance to be loved and enjoyed. Therefore, we thought we would offer you the chance to purchase a "mystery" bundle at a heavily discounted price. How fun is that!? This sort of reminds me of getting those little grab bags filled with candy from the corner store as a child - but now with CANDLES!
The retail value for each bundle will differ depending on what items are randomly included. However, I will guarantee that they are - at the very least - double what the retail value would normally be.
Before ordering, please carefully read the description below as these bundles are non-refundable. Please be assured, that these candles will burn with the same quality standards you have come to love and expect from us here at Sparkle Candle.
Your bundle will include one or more candles with the following:
out of season, overstock, or limited edition scents
discontinued style of vessel (glass or tin)
slight wax discoloration which can naturally happen over time as we never use any additives, preservatives or dyes in our formulations
incorrect or generic branding label
cotton wicks and/or wooden wicks in various sizes