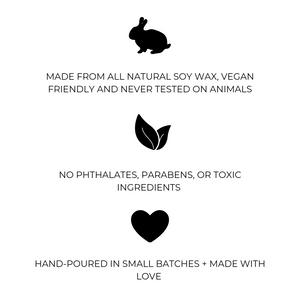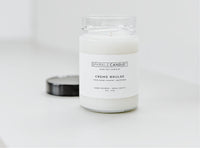 FEATURED CANDLE OF THE MONTH
Our Creme Brulee Candle is back for a limited time, and it's all thanks to your overwhelming love for this delightful fragrance. Treat yourself to a sweet and scrumptious delight, guilt-free. Just imagine being enveloped in the irresistible scent of creamy custard made with buttery milk, infused with the heavenly aroma of vanilla beans. And as you ignite this candle, you can close your eyes and envision cracking through that perfectly caramelized shell, sinking into the decadently smooth yumminess below. 
AVAILABLE HERE
Testimonials
I received one of your products as a gift, and it is my favourite candle ever! :) ..... Burns clean and even, smells amazing, and beautiful to look at. Love it so much!! 

Karen E.
Where to start?! I was already in love with the style but then when I received them.. WOW. The quality is astounding and you can tell 100% these are made with pure love. The turn around time is excellent and the owners are super helpful. I highly recommend.

Lindsay L.
These are the best candles ever! The only problem is deciding which one to bring home. The candle maker is amazing and puts love in all of her products

Dianna D.