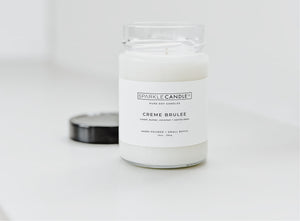 Our Creme Brulee Candle is back for a limited time, and it's all thanks to your overwhelming love for this delightful fragrance. Treat yourself to a sweet and scrumptious delight, guilt-free. Just imagine being enveloped in the irresistible scent of creamy custard made with buttery milk, infused with the heavenly aroma of vanilla beans. And as you ignite this candle, you can close your eyes and envision cracking through that perfectly caramelized shell, sinking into the decadently smooth yumminess below. 
Scent Notes: Cream | Butter | Caramel | Vanilla Bean
Size: 10oz - 284g
Sparkle Candle Co. candles are hand poured in small batches in Tillsonburg, ON. We use pure, renewable, american grown soy wax infused with paraben & phthalate free premium fragrances. We use only natural cotton or FSC certified wooden wicks. Variations in the look and texture of the wax will vary from candle to candle. These differences are not considered defects nor will they affect how your candle burns.
Burning Instructions: Burn for a minimum of 1.5 hours to create an even burn pool, to avoid tunneling, and to achieve a sufficient scent throw. Trim wick to ¼" prior to each use. Never leave candle unattended or burning for longer than 4 hours.